| | |
| --- | --- |
| Veranstalter | Dr. Emmanuel Dean? and M.Sc. Caixia Cai |
| Modul | IN2106 |
| Typ | Masterpraktikum |
| Semester | SS 2013 |
| ECTS | 10.0 |
| SWS | 6 |
| Time & Place | Thursdays, at 14:00 in room 01.07.023 (starting 18. April. 2013) |
| Certificate | successful completion of all exercises and final project |
| Registration | By email to one of the organizers. Confirmation via TUMonline |
Course Materials
NOTICE: Please take a look on the date and time for the Praktikum.
Please send your exercises to praktikum.rmc.2012@gmail.com with the filename: exercises_sessionNumber_yourname.
If you have questions, please send an e-mail to Dr.
Emmanuel Dean?
or M.Sc.
Caixia Cai
.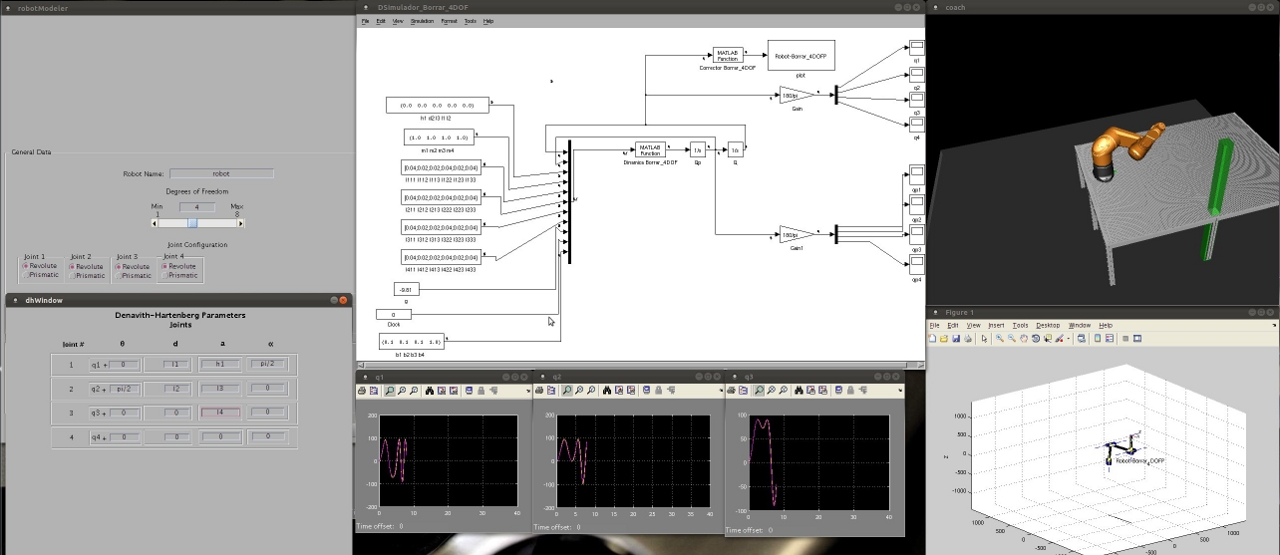 Contents of the Lab Course
Introduction to Robot Modelling (Kinematic and Dynamic modelling)
Denavit–Hartenberg methodology to describe robot joint frames, position and velocity
Robot Dynamics based on Euler-Lagrange
Non-linear control for robots (Lyaponov based)

Model free control
Model based control (robot regressor approach)
Impedance control (optional)

Introduction to our Robot Modelling Toolbox using Matlab
General Information
The course will be held in English language. The materials will also be in English.
The number of possible participants is 12.
Prerequisites for the Praktikum
Strong Mathematical background in Linear Algebra, Trigonometry and Calculus
Basic knowledge in robotics (preferred)
All the exercises will be implemented on ubuntu, please bring your laptop installed with ubuntu (>=11.04)
Matlab (preferably installed on a laptop)
Literature
[Corke11]

Peter Corke. Robotics, Vision and Control - Fundamental Algorithms in MATLABè, volume 73 of Springer Tracts in Advanced Robotics. Springer, 2011.
M.W. Spong, S. Hutchinson, and M. Vidyasagar. Robot modeling and control. John Wiley & Sons, 2006. [ http ]

[Craig05]

J.J. Craig. Introduction to robotics: mechanics and control. Addison-Wesley series in electrical and computer engineering: control engineering. Pearson/Prentice Hall, 2005. [ http ]